Furry the Flying Squirrel's Twice as Nice Rice
Turmeric-scented rice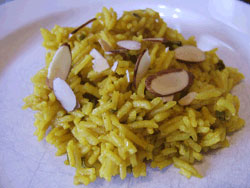 Makes 4 to 6 servings
This golden coloured rice sings with zippy turmeric that offers up a lemony flavour that is bright and would be perfect to serve alongside many different main courses like chicken, fish or beef.
Preparation Details
Preparation Time: 10 minutes
Cook Time: 16 minutes
Ingredients
5 mL (1 tsp) canola oil
3 green onions, thinly sliced
15 mL (1 tbsp) minced fresh ginger
2 cloves garlic, minced
7 mL (1 1/2 tsp) ground turmeric
250 mL (1 cup) basmati rice
500 mL (2 cups) sodium reduced vegetable broth
125 mL (1/2 cup) water
45 mL (3 tbsp) sliced almonds, toasted
Directions
In saucepan, heat oil over medium heat and cook onions, ginger, garlic and turmeric for 3 minutes or until softened.
Stir in rice and stir to coat. Add broth and water and bring to boil. Cover and reduce heat to low and cook for 10 minutes or until liquid is absorbed.
Fluff with fork and sprinkle with almonds to serve.
Tip: To toast almonds place in small nonstick skillet set over medium heat and shake pan occasionally for about 4 minutes or until golden and fragrant.
Nutritional Information per Serving
Serving: 250 mL/1 cup or 150 mL/2/3 cup
Calories: 288
Protein: 6 g
Total fat: 4 g
Saturated fat: 0 g
Cholesterol: 0 mg
Carbohydrate: 55 g
Fibre: 3 g
Sugar: 2 g
Sodium: 187 mg
Potassium: 140 mg
To receive more exclusive, heart-healthy recipes every month, please sign up for He@lthline for Parents, the Heart and Stroke Foundation's free e-newsletter at
www.heartandstroke.ca/subscribe