Jippy Dog's Twisted Tuna Casserole
Tuna and vegetable pasta casserole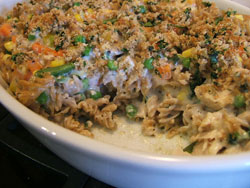 Makes 6 servings
This pasta favourite can be eaten right away or sprinkled with the breadcrumb topping and baked until golden for a perfect casserole dinner. Look for mixed frozen vegetables that are small that include carrots, peas, corn, lima beans and cut green beans.
Preparation Details
Preparation time: 15 minutes
Cook time: 30 to 35 minutes
Yield: 2.125 L (9 cups)
Ingredients
750 mL (3 cups) whole-wheat fusilli or rotini pasta
500 mL (2 cups) diced mixed frozen vegetables
15 mL (1 tbsp) soft non-hydrogenated margarine
2 green onions, chopped
45 mL (3 tbsp) all-purpose flour
2 mL (1/2 tsp) each dried thyme and basil leaves
750 mL (3 cups) low-fat milk
1 mL (1/4 tsp) freshly ground black pepper
2 cans (170 g/120 g drained) low-sodium solid light tuna in water, drained
75 mL (1/3 cup) shredded light old cheddar style cheese
125 mL (1/2 cup) fresh whole-wheat breadcrumbs
15 mL (1 tbsp) chopped fresh flat leaf parsley
15 mL (1 tbsp) soft non-hydrogenated margarine, melted
Directions
In a large pot of boiling water, cook pasta for 4 minutes. Add vegetables and cook for 2 minutes or until pasta is tender but firm. Drain well and set aside.
Meanwhile, in saucepan, melt margarine over medium heat and cook onions for 2 minutes or until softened. Add flour, thyme and basil and cook stirring, for 1 minute (mixture will be dry and crumbly). Whisk in milk and cook, whisking gently for about 8 minutes or until bubbly and thickened. Whisk in pepper. Add pasta, vegetables, tuna and cheese and stir to combine well. Pour into shallow ovenproof casserole dish.
Nutritional Information per Serving
Calories: 346
Protein: 22 g
Total fat: 7 g
Saturated fat: 2 g
Cholesterol: 18 mg
Carbohydrate: 50 g
Fibre: 6 g
Sugars: 10 g
Sodium: 193 mg
Potassium: 453 mg
To receive more exclusive, heart-healthy recipes every month, please sign up for He@lthline for Parents, the Heart and Stroke Foundation's free e-newsletter at
www.heartandstroke.ca/subscribe