Wango Tango Lemon Pie
Tangy lemon custard pie with fruit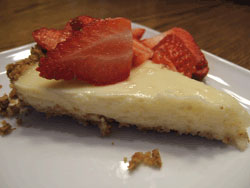 Makes 10 servings
This tangy lemon flavoured pie is a perfect match to serve up with fresh fruit. A light custard and soft crust make this pie an easy dessert to share with friends.
Preparation Details
Preparation time: 25 minutes
Cook time: 20 to 25 minutes
Chill time: 2 hours
Ingredients
175 mL (3/4 cup) graham cracker crumbs
60 mL (1/4 cup) each wheat germ and natural wheat bran
30 mL (2 tbsp) finely chopped walnuts or pecans
1 egg white
30 mL (2 tbsp) soft, non-hydrogenated margarine, melted
Filling:
2 eggs
2 egg whites
60 mL (1/4 cup) granulated sugar
15 mL (1 tbsp) finely grated lemon rind
60 mL (1/4 cup) lemon juice
1 envelope (7 g) unflavoured gelatin
175 mL (3/4 cup) 1% or 2% MF natural vanilla yogurt
625 mL (2 1/2 cups) fresh sliced strawberries or mixed berries
Directions
In bowl combine cracker crumbs, wheat germ, wheat bran and walnuts. In a small bowl whisk together egg whites and margarine. Pour over crumb mixture and stir to coat well. Press mixture into 23 cm (9-inch) pie plate and bake in 180 C (350 F) oven for about 13 minutes or until set and firm. Let cool.
Meanwhile, in saucepan whisk together eggs, egg whites, sugar, lemon rind and juice until well combined. Cook, whisking over medium-low heat for about 12 minutes or until thickened. Pour into fine mesh sieve over bowl and press through. Whisk in gelatin until combined. Whisk in yogurt and spread into cool crust. Refrigerate for at least 2 hours or until set and cold.
Serve with fruit.
Tips: Use frozen berries, thawed for the fresh berries. You can make this pie up to two days ahead.
Nutritional Information per Serving
Serving: 1/10 of the pie
Calories: 144
Protein: 6 g
Total fat: 6 g
Saturated fat: 1 g
Cholesterol: 38 mg
Carbohydrates: 19 g
Fibre: 2.3 g
Sugars: 10 g
Sodium: 100 mg
Potassium: 192 mg
To receive more exclusive, heart-healthy recipes every month, please sign up for He@lthline for Parents, the Heart and Stroke Foundation's free e-newsletter at
www.heartandstroke.ca/subscribe