Strawberry Surprise
Strawberry compote with dumplings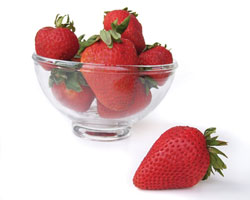 Makes 6 servings
Preparation Details
Preparation Time: 20 minutes
Cook Time: 20 minutes
Ingredients
1 bag (600 g) frozen, sliced strawberries, (about 1 L/4 cups)
25 mL (2 tbsp) granulated sugar
25 mL (2 tbsp) aged, balsamic vinegar
Whole-wheat dumplings
175 mL (3/4 cup) whole-wheat flour
125 mL (1/2 cup) natural wheat bran
15 mL (1 tbsp) granulated sugar
5 mL (1 tsp) baking powder
1 egg
125 mL (1/2 cup) low-fat milk
15 mL (1 tbsp) soft, non-hydrogenated margarine, melted
Directions
In saucepan cover and heat strawberries over medium heat until softened. Add sugar and vinegar and bring to a boil.
Whole-wheat dumplings: Meanwhile, in bowl whisk together flour, bran, sugar and baking powder. In another small bowl, whisk together egg, milk and margarine. Pour over flour mixture and stir until moistened.
Add dumplings to boiling strawberry mixture by spoonfuls to make 8 to 10 dumplings. Reduce heat and boil gently for about 10 minutes or until dumplings are puffed. Cover and cook for 2 minutes or until dumplings are set on top. Remove from heat to serve.
Tip: You can serve a dollop of low fat vanilla yogurt on top of each serving if desired or garnish with a sprig of fresh mint.
Nutritional Information per Serving
Serving: 125 mL/1/2 cup
Calories: 161
Protein: 5 g
Total fat: 4 g
Saturated fat: 1 g
Cholesterol: 32 mg
Carbohydrate: 31 g
Fibre: 5 g
Sugar : 14 g
Sodium: 92 mg
Potassium: 318 mg
To receive more exclusive, heart-healthy recipes every month, please sign up for He@lthline for Parents, the Heart and Stroke Foundation's free e-newsletter at
www.heartandstroke.ca/subscribe