DJ Robot's Dynamite Fish Sticks
Spiced salmon sticks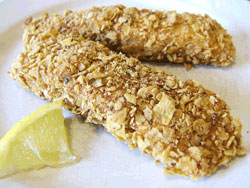 Makes 4 servings
Adults and children alike love these spicy, crunchy sticks. You can substitute other thick fish fillets for the salmon.
Preparation Details
Preparation Time: 15 minutes
Cook Time: 10 minutes
Ingredients
500 g (1 lb) centre cut salmon fillet, skinned
1 egg white, lightly beaten
5 mL (1 tsp) Dijon mustard
5 mL (1 tsp) chopped fresh thyme or 2 mL (1/2 tsp) dried thyme leaves
250 mL (1 cup) finely crushed cornflakes
10 mL (2 tsp) chili powder
5 mL (1 tsp) paprika
1 mL (1/4 tsp) cayenne pepper
Directions
Cut salmon into 8 equal strips and set aside.
In shallow dish, whisk together egg white, mustard and thyme.
Tip: You will need 500 mL (2 cups) cornflakes to get 250 mL (1 cup) crushed. Place them in a re-sealable bag and use a rolling pin to crush them or get the kids to help and use their hands to crush the flakes.
Nutritional Information per Serving
Serving: 125 mL/4 oz
Calories: 297
Protein: 25 g
Total fat: 13 g
Saturated fat: 3 g
Cholesterol: 64 mg
Carbohydrate: 19 g
Fibre: 1 g
Sugar: 2 g
Sodium: 253 mg
Potassium: 454 mg
To receive more exclusive, heart-healthy recipes every month, please sign up for He@lthline for Parents, the Heart and Stroke Foundation's free e-newsletter at
www.heartandstroke.ca/subscribe