Gobbledygood Spaghetti and Meatballs
Spaghetti squash and turkey meatballs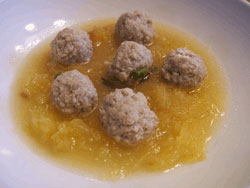 Makes 6 servings (36 meatballs)
These turkey meatballs are a great topping for spaghetti squash for a change from serving them with pasta. Serving the squash in some of the broth keeps it moist and flavourful.
Preparation Details
Preparation time: 25 minutes
Cook time: 50 minutes
Ingredients
1 spaghetti squash (about 1.25 kg/2 1/2 lbs)
250 g (8 oz) extra lean ground turkey or chicken
75 mL (1/3 cup) seasoned dry breadcrumbs
750 mL (3 cups) no salt added chicken or sodium reduced vegetable broth
1 green onion, sliced or 15 mL (1 tbsp) chopped fresh parsley (optional)
1 small clove garlic, minced
30 mL (2 tbsp) grated Parmesan cheese
Directions
In bowl, stir together turkey, breadcrumbs and egg until firm. Using heaping teaspoonful (5 mL) roll into small balls; set aside.
In saucepan, bring broth, onion, if using and garlic to simmer and add meatballs. Cook, stirring gently for 5 minutes or until no longer pink inside.
Using fork, scrape squash out of skin into long strands and divide among shallow bowls and ladle meatballs and broth over top to serve. Sprinkle with cheese before serving.
Nutritional Information per Serving
Serving: 6 of 36 meatballs per serving; about 150 mL/2/3 cup of spaghetti squash; 125 mL/1/2 cup broth
Calories: 158
Protein: 12 g
Total fat: 6 g
Saturated fat: 2 g
Cholesterol: 60 mg
Carbohydrate: 15 g
Fibre: 2 g
Sugar: 1 g
Sodium: 243 mg
Potassium: 337 mg
To receive more exclusive, heart-healthy recipes every month, please sign up for He@lthline for Parents, the Heart and Stroke Foundation's free e-newsletter at
www.heartandstroke.ca/subscribe