Alice the Elephant's Sweet Cubes
Roasted sweet potato and pepper cubes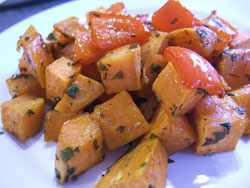 Makes 4 to 6 servings
Bright colours and sweet flavours make this vegetable side dish perfect to enjoy hot, warm or cold. Try to cube the potatoes similar in size to cook evenly. Just less than 2.5 cm (1 inch) is a great size for small and big kid hands if they want to nibble on them with their hands. Easy to pick up and enjoy!
Preparation Details
Preparation time: 15 minutes
Cook time: 40 minutes
Yield: 1 L (4 cups)
Ingredients
2 sweet potatoes, peeled and cubed (about 1 kg/2 lbs)
1 large sweet pepper (red or yellow), cut into cube size pieces
30 mL (2 tbsp) maple syrup
15 mL (1 tbsp) canola oil
25 mL (2 tbsp) chopped fresh parsley
15 mL (1 tbsp) chopped fresh thyme
Directions
In a large bowl, stir together sweet potatoes and pepper. Drizzle with maple syrup and oil. Add parsley and thyme and stir to coat well.
Nutritional Information per Serving
Calories: 253
Protein: 4 g
Total fat: 4 g
Saturated fat: 0 g
Cholesterol: 0 mg
Carbohydrate: 53 g
Fibre: 7 g
Sugars: 21 g
Sodium: 70 mg
Potassium: 686 mg
To receive more exclusive, heart-healthy recipes every month, please sign up for He@lthline for Parents, the Heart and Stroke Foundation's free e-newsletter at
www.heartandstroke.ca/subscribe