Poisson Pistachio à la Mustachio
Pistachio crusted whitefish with chunky roasted red pepper sauce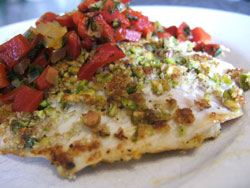 Makes 4 servings
The soft meatiness of colourful pistachios adds a nice contrast to the crisp garlic crust for the fish. Look for catfish, tilapia, haddock or cod fillets for this recipe in your grocery stores.
Preparation Details
Preparation time: 15 minutes
Cooking time: 15 to 20 minutes
Ingredients
125 mL (1/2 cup) fresh whole wheat bread crumbs
60 mL (1/4 cup) shelled pistachios, finely chopped
2 cloves garlic, minced
1 mL (1/4 tsp) freshly ground black pepper
1 egg white
15 mL (1 tbsp) Dijon mustard
4 small white fish fillets (about 454 g/1 lb)
2 tsp (10 mL) canola oil
Chunky Roasted Red Pepper Sauce:
5 mL (1 tsp) canola oil
Half small onion, finely diced
25 mL (2 tbsp) chopped fresh flat leaf parsley
1 jar (340 mL/12 oz) roasted red peppers, drained and diced
125 mL (1/2 cup) no salt homemade chicken stock or reduced sodium chicken broth
15 mL (1 tbsp) liquid honey
Directions
In a shallow dish combine breadcrumbs, pistachios, garlic and pepper.
In another shallow dish, whisk together egg white and mustard. Coat fish fillets with mustard mixture and coat in breadcrumb mixture.
Heat oil in large ovenproof nonstick skillet and cook fish on medium high heat for 2 minutes. Turn over and place in 220C (425F) oven for about 8 minutes or until fish flakes when tested with fork.
Meanwhile, in small nonstick skillet or saucepan, heat oil over medium heat and cook onion and parsley for about 5 minutes or until softened. Add peppers, stock and honey and bring to a simmer. Simmer for about 2 minutes or until some of the stock has evaporated. Serve over fish fillets.
Tip: To make fresh breadcrumbs, use fresh sliced bread or buns and pulse in a food processor until fine crumbs. Freeze any extra in a resealable bag or airtight container.
Nutritional Information per Serving
Calories: 245
Protein: 27g
Total fat: 9 g
Saturated fat: 2 g
Cholesterol: 49 mg
Carbohydrate: 16 g
Fibre: 2 g
Sugars: 8 g
Sodium: 439 mg
Potassium: 626 mg
To receive more exclusive, heart-healthy recipes every month, please sign up for He@lthline for Parents, the Heart and Stroke Foundation's free e-newsletter at
www.heartandstroke.ca/subscribe