More Please Cheese Spread
Goat cheese mint bean spread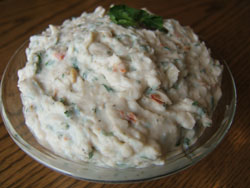 Makes 500 mL (2 cups)
This creamy spread is delicious served with crisp vegetables. Your guests will enjoy the fresh mint and the tangy subtle flavour of the goat cheese.
Preparation Details
Preparation Time: 15 minutes
Ingredients
1 can (540 mL/19 oz) white kidney beans, drained and well-rinsed
1 pkg (125 g/4 oz) soft goat cheese
60 mL (1/4 cup) low-fat milk
75 mL (1/3 cup) chopped fresh mint
60 mL (1/4 cup) chopped sundried tomatoes
1 large clove garlic, minced
1 mL (1/4 tsp) freshly ground pepper
Directions
In food processor pulse beans until coarsely chopped.
Add goat cheese and milk and puree until smooth.
Pulse in mint, tomatoes, garlic and pepper until combined.
Cover and refrigerate for at least 1 hour for flavours to develop.
Tip: Cover and refrigerate for up to 3 days; stir well before serving.
Nutritional Information per Serving
Serving: 25 mL/2 tbsp
Calories: 42
Protein: 3 g
Total fat: 1 g
Saturated fat: 1 g
Cholesterol: 3 mg
Carbohydrate: 5 g
Fibre: 1 g
Sugars: 1 g
Sodium: 103 mg
Potassium: 111 mg
To receive more exclusive, heart-healthy recipes every month, please sign up for He@lthline for Parents, the Heart and Stroke Foundation's free e-newsletter at
www.heartandstroke.ca/subscribe