Fudge-o-rama Cookies
Fudgy soft cookies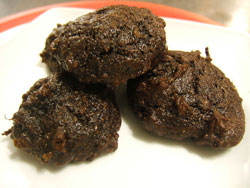 Makes about 24 cookies
These cookies taste like cakey brownies that have the addition of fibre and a deep chocolaty flavour that kids love. Perfect tucked into a lunch bag or for an addition to an after school snack with milk.
Preparation Details
Preparation time: 15 minutes
Cook time: 1 minute
Bake time: 10 to 12 minutes per baking sheet
Ingredients
250 mL (1 cup) pitted Medjool dates (about 12) or prunes, chopped
75 mL (1/3 cup) low fat milk
50 mL (1/4 cup) soft non-hydrogenated margarine
175 mL (3/4 cup) whole-wheat flour
75 mL (1/3 cup) unsweetened cocoa powder
2 mL (1/2 tsp) each baking soda and baking powder
60 mL (1/4 cup) granulated sugar
1 egg
5 mL (1 tsp) vanilla extract
Directions
In large microwaveable boil combine dates, milk and margarine. Cover and microwave on High for 1 minute or until steaming. Using a fork or potato masher, mash the date mixture. Let cool slightly.
In another bowl, combine flour, cocoa powder and baking soda and powder; set aside.
Using an electric mixer, beat sugar into date mixture. Beat in egg and vanilla until combined. Gradually add flour mixture and beat until combined.
Storage tip: Keep in resealable plastic bag or airtight container for about 3 days in the refrigerator or in freezer for up to 3 weeks.
Nutritional Information per Serving
Serving: one cookie
Calories: 74
Protein: 1 g
Total fat: 2 g
Saturated fat: 0 g
Cholesterol: 8 mg
Carbohydrate: 14 g
Fibre: 2 g
Sugars: 10 g
Sodium: 45 mg
Potassium: 123 mg
To receive more exclusive, heart-healthy recipes every month, please sign up for He@lthline for Parents, the Heart and Stroke Foundation's free e-newsletter at
www.heartandstroke.ca/subscribe