Felix the Frog Pond Chowder
Fish and vegetable yogurt chowder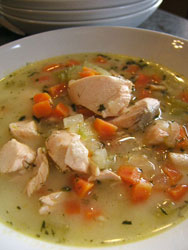 Makes 4 servings
The fresh vibrancy of plain yogurt adds great freshness to this traditionally heavy soup. Lively colours of vegetables and flavours will make you think of springtime dinners and long for more fish on the table with generous chunks of salmon in each bite.
Preparation Details
Preparation Time: 15 minutes
Cook Time: 18 to 20 minutes
Yield: 2 L (8 cups)
Ingredients
10 mL (2 tsp) canola oil
2 carrots, chopped
1 onion, chopped
1 stalk celery, thinly sliced
15 mL (1 tbsp) each chopped fresh thyme and dill or 5 mL (1 tsp) each dried thyme leaves and dill weed
2 mL (1/2 tsp) celery or fennel seed, crushed
1 L (4 cups) no salt homemade chicken stock or sodium reduced chicken broth
3 skinless salmon fillets, about 454 g/1 lb total
250 mL (1 cup) low fat yogurt
25 mL (2 tbsp) all purpose flour
Directions
In a soup pot heat oil over medium heat and cook carrots, onion, celery, thyme, dill and celery seed for about 8 minutes or until starting to brown. Add stock and stir to combine. Bring to a gently boil and add salmon into pot. Cook, stirring gently for about 10 minutes or until salmon flakes when tested with a fork. Break salmon apart slightly into chunks and reduce heat to medium low.
Whisk together yogurt and flour and stir into soup until creamy and heated through.
Nutritional Information per Serving
Serving: 500 mL /2 cups
Calories: 338
Protein: 32 g
Total fat: 16 g
Saturated fat: 3 g
Cholesterol: 67 mg
Carbohydrate: 16 g
Fibre: 2 g
Sugars: 6 g
Sodium: 187 mg
Potassium: 1,164 mg
To receive more exclusive, heart-healthy recipes every month, please sign up for He@lthline for Parents, the Heart and Stroke Foundation's free e-newsletter at
www.heartandstroke.ca/subscribe