Spice of Life Apple Pudding
Cinnamon apple bread pudding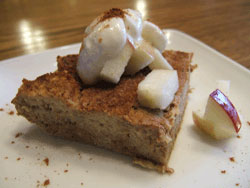 Makes 8 servings
Comfort food is easy when you have the ingredients right in your kitchen. Using sliced whole grain bread you can have this dessert ready for family or friends in 30 minutes. Full of apple cinnamon flavour you may want to sneak some for breakfast the next day!
Preparation Details
Preparation Time: 10 minutes
Cook Time: 30 minutes
Ingredients
1 L (4 cups) cubed whole grain bread
2 eggs
2 egg whites
175 mL (3/4 cup) unsweetened applesauce
125 mL (1/2 cup) skim milk
10 mL (2 tsp) ground cinnamon
125 mL (1/2 cup) low fat vanilla yogurt
1 small apple, cored and diced
Ground cinnamon (optional)
Directions
Sprinkle bread in sprayed 2 L (8 inch) square baking dish; set aside.
Serve each piece with dollop of yogurt, apple and sprinkling of cinnamon, if using.
Tip: You will need about 4 slices of whole grain bread to get the 1 L (4 cups).
Nutritional Information per Serving
Serving: about 125/1/2 cup each
Calories: 112
Protein: 6 g
Total fat: 3 g
Saturated fat: 1 g
Cholesterol: 48 mg
Carbohydrate: 18 g
Fibre: 2 g
Sugar: 8 g
Sodium: 157 mg
Potassium: 164 mg
To receive more exclusive, heart-healthy recipes every month, please sign up for He@lthline for Parents, the Heart and Stroke Foundation's free e-newsletter at
www.heartandstroke.ca/subscribe