Frank the Crab's Chocolicious Carrot Cakes
Chocolate carrot cupcakes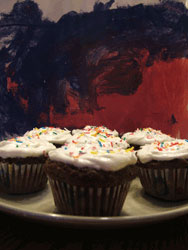 Makes 12 cupcakes
These cupcakes are not too sweet and have a hint of cinnamon and chocolate that offers up a tasty treat. Enjoy them on their own or use the yogurt icing before serving for a creamy topping that will hold a few sprinkles that kids and adults will enjoy.
Preparation Details
Preparation time: 20 minutes
Bake time: 25 minutes
Ingredients
175 mL (3/4 cup) each all purpose flour and whole wheat flour
125 mL (1/2 cup) natural wheat bran
125 mL (1/2 cup) packed brown sugar
75 mL (1/3 cup) unsweetened cocoa powder
5 mL (1 tsp) baking powder
2 mL (1/2 tsp) baking soda
2 mL (1/2 tsp) ground cinnamon
3 egg whites
175 mL (3/4 cup) plain 1% MF yogurt
125 mL (1/2 cup)1% MF milk
60 mL (1/4 cup) canola oil
5 mL (1 tsp) vanilla
375 mL (1 1/2 cups) grated carrot
Yogurt Icing:
500 mL (2 cups) 1% M.F. Greek-style, plain natural yogurt
45 mL (3 tbsp) icing sugar
2 mL (1/2 tsp) vanilla
Directions
In large bowl, whisk together all purpose and whole wheat flours, bran, sugar, cocoa powder, baking powder and soda and cinnamon.
In another bowl, whisk egg whites until frothy and whisk in yogurt, milk, oil and vanilla. Pour over flour mixture and stir a few times. Add carrot and stir until well combined.
Scoop batter into 12 paper lined or greased muffin tins. Bake in 180 C (350 F) oven for about 25 minutes or until cake tester inserted in centre comes out clean. Let cool completely before using icing.
Icing:
Scrape yogurt into cheesecloth or coffee filter lined fine mesh sieve and place over bowl.
Cover and refrigerate for at least 6 hours or up to overnight.
Drain liquid and scrape drained yogurt into bowl.
Whisk in sugar and vanilla and spread onto cupcakes.
Nutritional Information per Serving
Serving: (1 cupcake)
Calories: 198
Protein: 7 g
Total fat: 6 g
Saturated fat: 1 g
Cholesterol: 3 mg
Carbohydrates: 32 g
Fibre: 3.3 g
Sugars: 15 g
Sodium: 141 mg
Potassium: 334 mg
To receive more exclusive, heart-healthy recipes every month, please sign up for He@lthline for Parents, the Heart and Stroke Foundation's free e-newsletter at
www.heartandstroke.ca/subscribe