Packs a Punch and a Bite Salad
Black-eyed pea and roasted garlic salad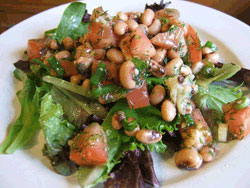 Makes 5 servings
This salad is colourful and full of garlic and dill flavour. Perfect for a lunch or dinner.
Preparation Details
Preparation time: 15 minutes
Cook time: 40 minutes
Ingredients
1 large head of garlic
1 can (540 mL/19 oz) black eyed peas, drained and rinsed
1 large tomato, chopped
2 green onions, thinly sliced
30 mL (2 tbsp) chopped fresh dill or 10 mL (2 tsp) dried dill
1 L (4 cups) mixed spring greens
20 mL (4 tsp) canola oil
30 mL (2 tbsp) lemon juice
Freshly ground black pepper (optional)
Directions
In bowl, combine peas, tomato, onions and dill. Squeeze garlic cloves out into pea mixture and discard skins. Stir together to combine. Divide greens onto 4 plates and top with pea mixture.
In small bowl, whisk together oil and lemon juice and spoon some over each salad. Sprinkle with pepper, if using.
Tip: For a stronger garlic flavour, roast another head of garlic and add it to the salad.
Nutritional Information per Serving
Serving: 250 mL/1 cup
Calories: 159
Protein: 7 g
Total fat: 5 g
Saturated fat: 1 g
Cholesterol: 0 mg
Carbohydrate: 23 g
Fibre: 6 g
Sugars: 3 g
Sodium: 222 mg
Potassium: 569 mg
To receive more exclusive, heart-healthy recipes every month, please sign up for He@lthline for Parents, the Heart and Stroke Foundation's free e-newsletter at
www.heartandstroke.ca/subscribe