Parnsnippety Do Dah Soup
Barley and parsnip soup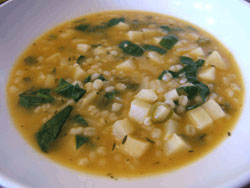 Makes 8 servings
Parsnips are a perfect ingredient to add sweetness and texture to any soup. The green goodness of baby spinach and green onion will make you think of spring!
Preparation Details
Preparation time: 15 minutes
Cook time: 40 minutes
Ingredients
15 mL (1 tbsp) canola oil
1 bunch green onions, chopped
3 cloves garlic, minced
5 mL (1 tsp) dried thyme leaves or 15 mL (1 tbsp) chopped fresh thyme
2 mL (1/2 tsp) mild curry paste or powder
4 parsnips, peeled and diced (about 400 g/12 oz)
125 mL (1/2 cup) pearl barley
1 L (4 cups) sodium-reduced vegetable or chicken broth
500 mL (2 cups) water
500 mL (2 cups) lightly packed shredded baby spinach
Directions
In soup pot, heat oil over medium heat and cook onions, garlic, thyme and curry paste for about 3 minutes or until softened.
Add parsnips and barley and stir to coat. Add broth and bring to boil. Reduce heat; cover and simmer for about 35 minutes or until parsnips and barley are tender.
Stir in spinach and cook for 1 minute or until wilted.
Nutritional Information per Serving
Calories: 118
Protein: 3 g
Total fat: 2 g
Saturated fat: 0 g
Cholesterol: 0 mg
Carbohydrate: 22 g
Fibre: 3.5 g
Sugars: 4 g
Sodium: 268 mg
Potassium: 282 mg
To receive more exclusive, heart-healthy recipes every month, please sign up for He@lthline for Parents, the Heart and Stroke Foundation's free e-newsletter at
www.heartandstroke.ca/subscribe