Peter Piper's Spears n' Peppers
Asparagus and red pepper mix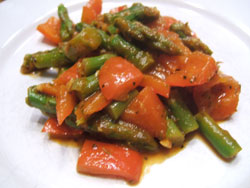 Makes 4 servings
Bright red and green vegetables are filled with flavour and perfect to serve alongside chicken, beef or fish. You can use any leftovers to stir into rice or pasta for another meal idea.
Preparation Details
Preparation Time: 10 minutes
Cook Time: 10 minutes
Ingredients
15 mL (1 tbsp) extra virgin olive oil
1 bunch fresh asparagus (about 450 g/1 lb), chopped
2 red bell peppers, chopped
3 cloves garlic, minced
7 mL (1 1/2 tsp) Italian herb seasoning
375 mL (1 1/2 cups) sodium reduced (50%) tomato juice
Directions
In large nonstick skillet heat oil over medium high heat. Add asparagus, peppers, garlic and Italian seasoning; cook, stirring for 5 minutes. Add tomato juice and bring to a simmer. Cook, stirring occasionally for about 5 minutes or until tender crisp.
Nutritional Information per Serving
Calories: 78
Protein: 3 g
Total fat: 4 g
Saturated fat: 1 g
Cholesterol: 0 mg
Carbohydrate: 11 g
Fibre: 3 g
Sugars: 7 g
Sodium: 121 mg
Potassium: 446 mg
To receive more exclusive, heart-healthy recipes every month, please sign up for He@lthline for Parents, the Heart and Stroke Foundation's free e-newsletter at
www.heartandstroke.ca/subscribe